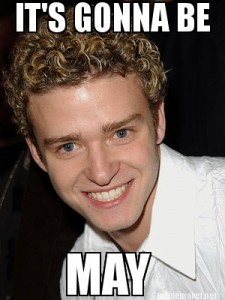 Because I can't help myself with this meme. The only one that could possibly rival it is the "May the Fourth be with you". The genius behind these puns are too great not to appreciate every year.
I wrote on my calendar today the amount of days left until I walk across the stage in the Pavilion where graduation will be. 44 days from May 1st. 44 days from today. It's funny to think that when I graduated high school in June of 2011, June 2015 seemed so far away. Time is funny in that these past four years of college have absolutely flown by. So many great things have happened during the past four years as well as a lot of growing on my part.
Transferring was one of the difficult moments I encountered in my college career and this was a trial that not many people encounter. For the record, they lie to you in high school by telling you that transferring is easy and a guaranteed way to get into the school that you want to go to. Then they lie to you even more at community college by telling you to follow the simple outlined steps in the IGETC and you'll get in wherever you want to go.
When I got the rejection letter from UCLA, my number one school, it was hard not to be angry because I had believed that going to community college was the sure fire way to get into UCLA. Things got even worse when the school that I was going to go to, Cal Poly SLO, rescinded my admissions due to an application error on their part.
Every person I told the story to didn't know what to say. A lot of responses were, "I have never heard of that happening before!"….which obviously didn't help my crisis of entering Memorial Day weekend that year with no future academic plans and just ultimately devastated at the thought of having to stay another year at home basically wasting time.
So how did I end up at UC Davis then? I'm not even sure I could tell you why I applied. It was one of the few schools I toured, not like I had ever really heard of UC Davis before because in reality no one has really ever heard of a California town called Davis, but I remember loving the campus. Hating the area, but loving the campus. When it came time to apply to schools, UC Davis had the Communication major and since the campus seemed cool, I took the plunge. It was my 4th school on my list of 5 that I applied to. UC Irvine bottomed out that list. After getting denied from UCLA, SDSU, and rescinded from SLO– I had to make the fateful phone call to Davis and essentially beg for them to let me change my mind. "See," I told the guy on the phone, "I've made a huge mistake. I really need to be able to go back into the SIR and change my decision to yes." Here I was waiting on the other line assuming they were just going to tell me no, fat chance, too bad.
Instead the guy said, "Sure! I've just reset it for you."
Here I am, almost two full years later from that point and I couldn't be more happy with the way my decisions played out. Community college gave me some of the greatest friends that I still have today and allowed me to continue my swimming career longer than I thought I would ever be able to do. It saved my parents a lot of money and it enabled me to grow up a little bit before moving out on my own and facing the distractions of not living with your parents and pretty much having ultimate freedom. High school me was never on track to go to  UC- so in that respect I guess no one lied to me. I didn't get into the school that I thought I wanted to go to, but I definitely went to a better school than I ever thought I could go to.
Here's me, back in high school, June 10th, 2011 with one of my best friends from high school,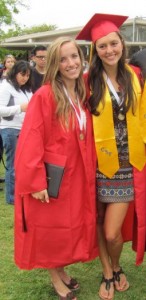 Hailey. I kind of resemble a giant tomato in this photo due to the oh-so-flattering color of the graduation gowns. UC Davis at least gives us all the same ill fitting, but better for everyone's skin tone colored, navy gowns. High school graduation seems like forever ago, even though just 4 short years ago I thought June 13th, 2015 would take forever to get here.
And now? It's 44 days away.