Where in the world have I been lately?
I recently was in Flathead Lake, Montana. The trip did not disappoint.
While planning this trip, I was doing research online. Flathead Lake popped up a few times, especially when I went to the visit Montana page. It wasn't until I saw the google images of the lake that I knew- I had to go visit.
Flathead Lake is the largest freshwater lake west of the Mississippi. At 389′ at it's deepest, it's one beautiful lake. Wildhorse Island sits in the bottom left of the lake and is home to bighorn sheep and deer.
When You're There: Kayaking
Surrounding the lake there's camping, hiking, and small Montana towns. Flathead Lake is what I imagined Montana to look like. You can boat on the lake, swim in the lake, and kayak.
I opted for kayaking and boy, was it an exciting ride. I recommend that if you don't know how to read a map very well, you may want to take a more guided trip- otherwise you'll end up kayaking for 10 miles wondering where this mysterious drop off location is for your kayak.
The thing about the lake shore, is that it all looks the same. So when we left the rental place in our little blue kayak, we had no idea truly where we were going. Just that we were going to end up on Wildhorse Island!
We did…eventually. We kayaked to far around the island and missed all the trail heads. It led to us doing a quick hike along the very edge and not getting to see any bighorn sheep. For me, that was what I had really wanted to do, but when you only have a five hour kayak rental you have to make sacrifices.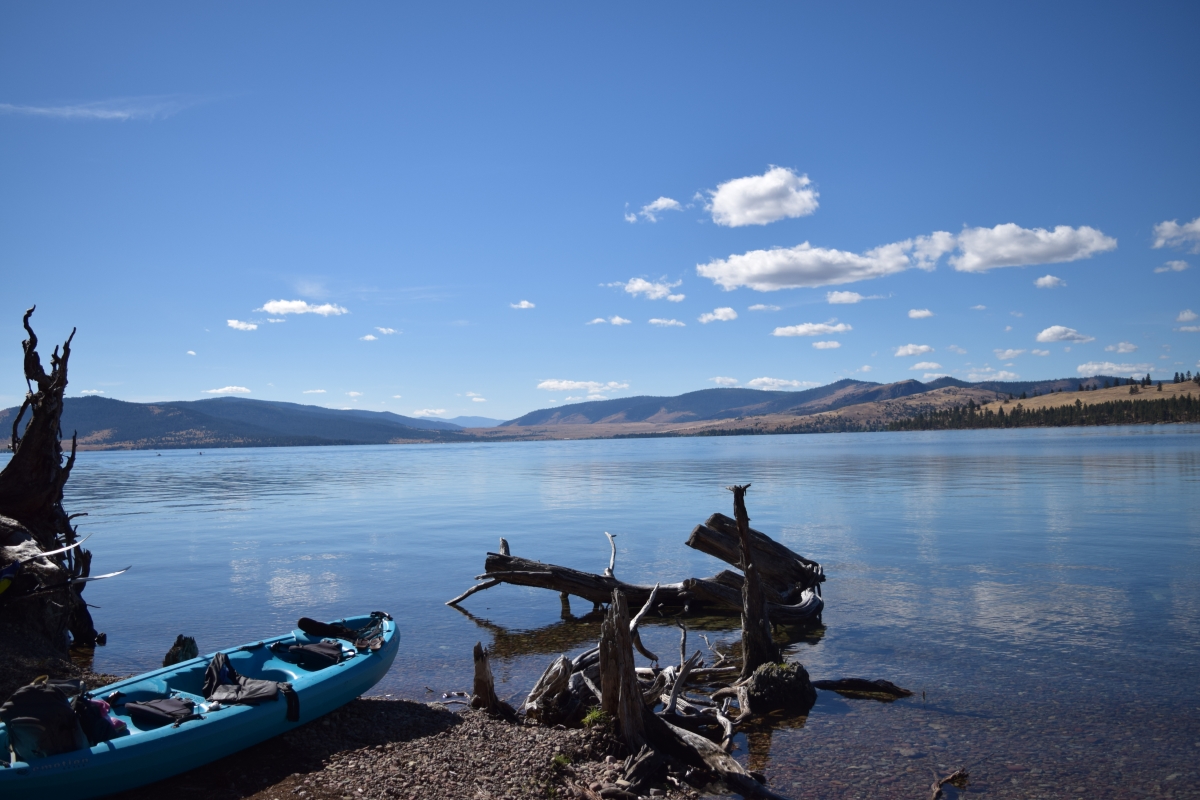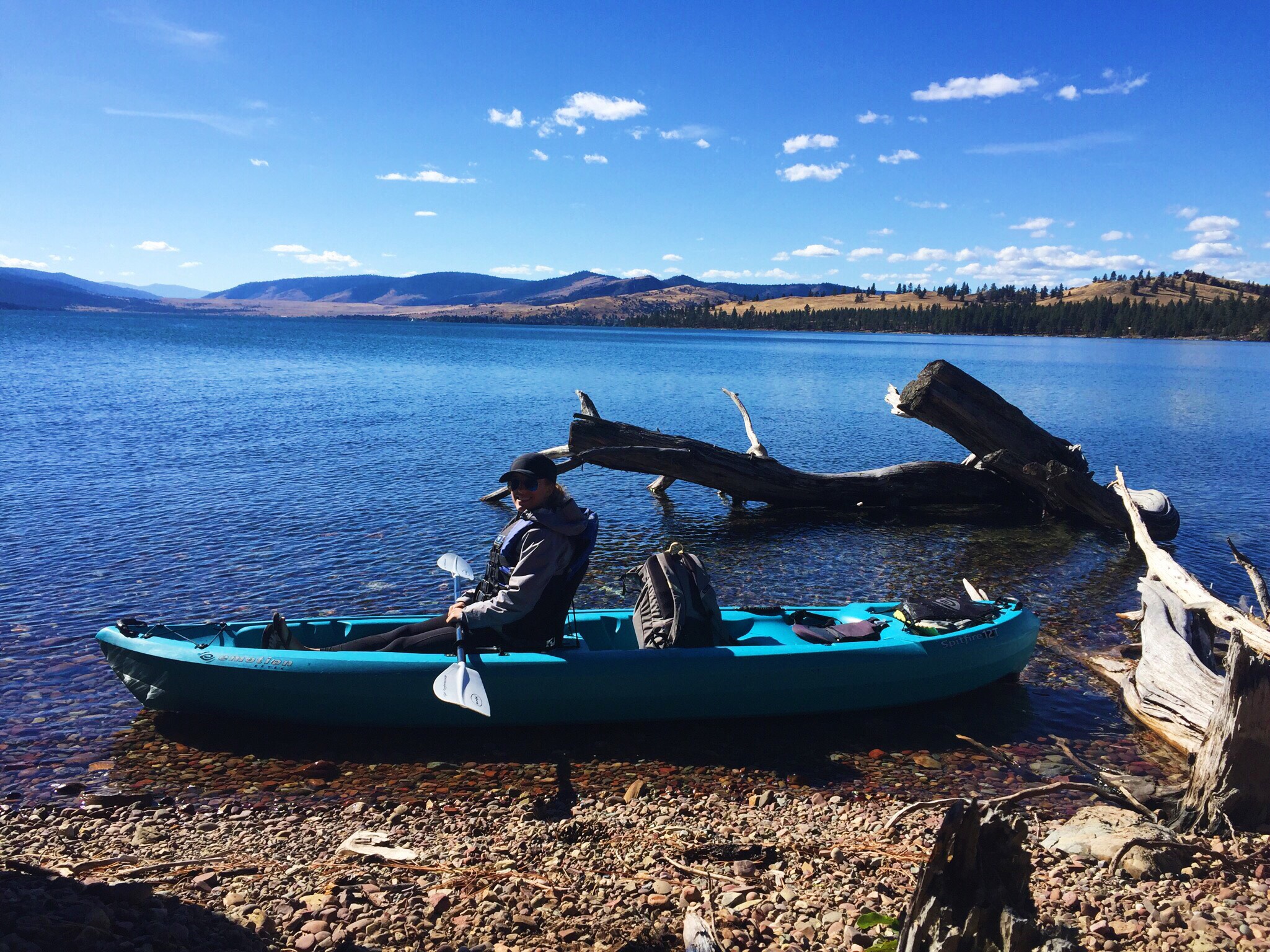 When You're There: Weather
So here we are, in Montana in the first week of September expecting that the weather will cooperate. Unfortunately, weather around the lake was windy. Cold. Rainy. Because of weather set backs, we weren't able to hike as much as we wanted to around the lake.
Rest assured, if you're there when the sun is out, then there's a lot of hiking to be done. The hiking can be reached from a lot of the different campgrounds you can camp at.
The wind and rain brought other challenges as well, especially in the form of falling trees at campgrounds. Therefore, camping was also challenging in bad weather.
When You're There: Campgrounds
Finely Point: If you tent camp, be wary. This campground is mostly for the RV folks out there who camp in style. They have two walk-up tent sites, which are not actual walk up and chose sites. They are, park your truck far away and then lug all of your stuff up a hill to your campsite. Finely Point is not ideal for those who don't have RV's because the camping is limited, the campground isn't very well kept, and there's not a large selection of campgrounds. Finely Point is on the south end of the lake, on the reservation, so you'll need a tribal pass to camp there.
Wayfarers Point: 5 out of 5. Wayfarers was a great campground. Most of the sites are shrouded in trees and plants so there's a level of privacy between you and the family of five next to you. The campground also has potable water, showers, and bathrooms. It's a nice addition for the tent campers. Wayfarers has a few short hikes surrounding the campgrounds that you can easily do as a nice way to wake up in the morning. If you head towards the parking lot and hook a left, you'll end up on the cliff side where you can cliff jump into the lake and sit on the rocks, enjoy dinner, etc. Wayfarers is on the north side of the lake, off the reservation, right outside of Bigfork, MT.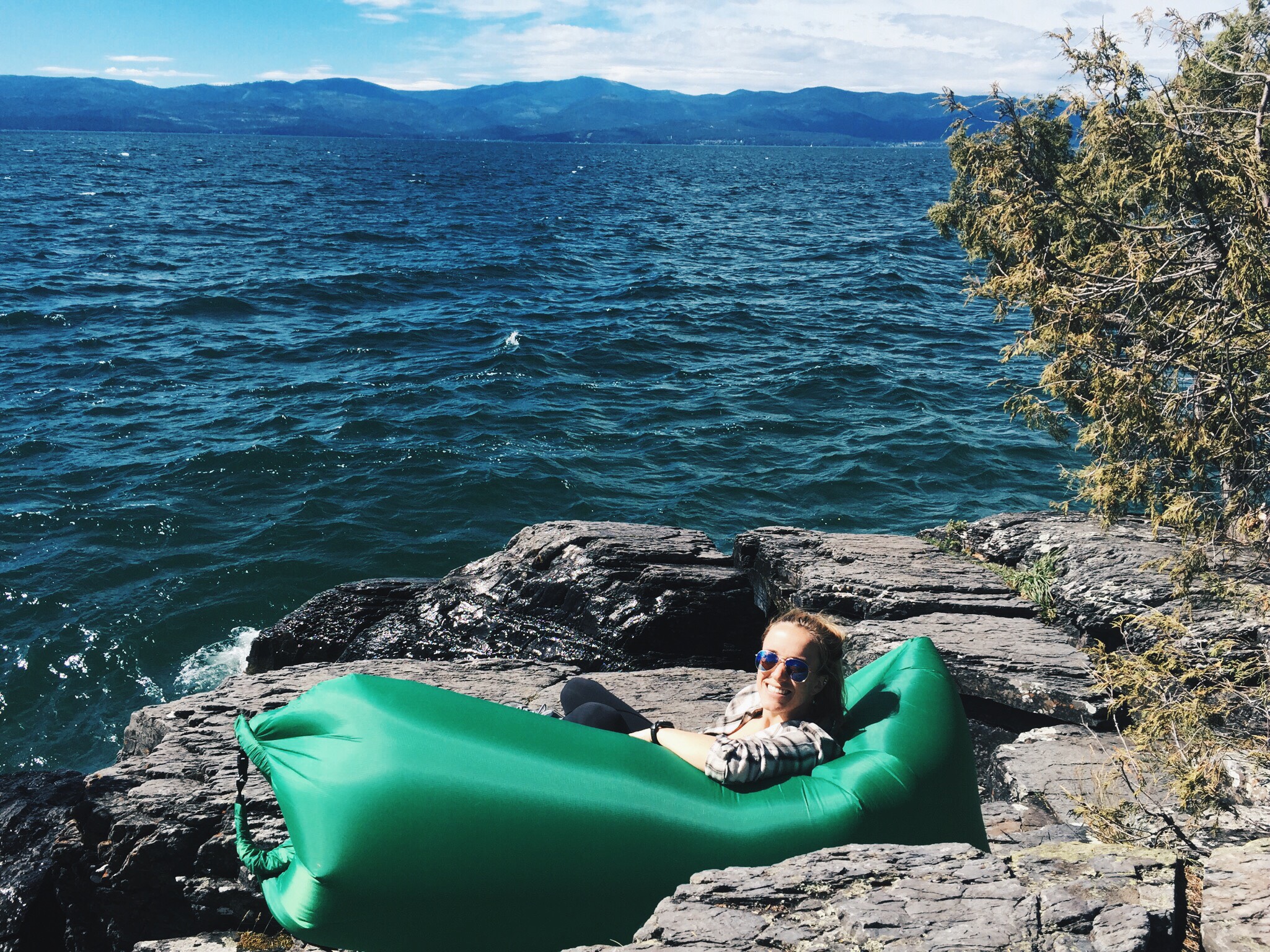 Tips:
People don't tent camp very often in Montana. I hardly saw people tent camping, as the weather is so unpredictable having some type of RV is a great way to shield yourself from the weather without having to give up your campground and stay at a hotel (happened during our stay at Finely Point because of the weather and falling trees).
You can plan for weather, but you won't know. The weather is just unpredictable. We tried to look ahead at weather but as well all know, weatherman is not always right. So even though we saw an average for the beginning of September was low 70s during the day and mid 40s at night, sunshine, that's not what we got.
Buy a reservation permit. This is important because you need to have it in advance and have it on your persons the entire time you're on the reservation. If you don't buy it before the trip and print it out, you'll have some difficulty once you get there.
All in All
I would go back. I would love to go and spend time when the weather isn't as difficult, spend more time at Wayfarers, and get everything done that I want within the three days I'm there. I especially loved the kayaking, even though it proved challenging and revealed my weakness in map reading. I would skip Finely Point in the future, but Wayfarers is definitely the best campground. Make sure while you're there, you stop in the Bigfork at the local brewery that's right on the lake. There's something about the beer in Montana (maybe it's the price, max $4!) that just make it delicious.