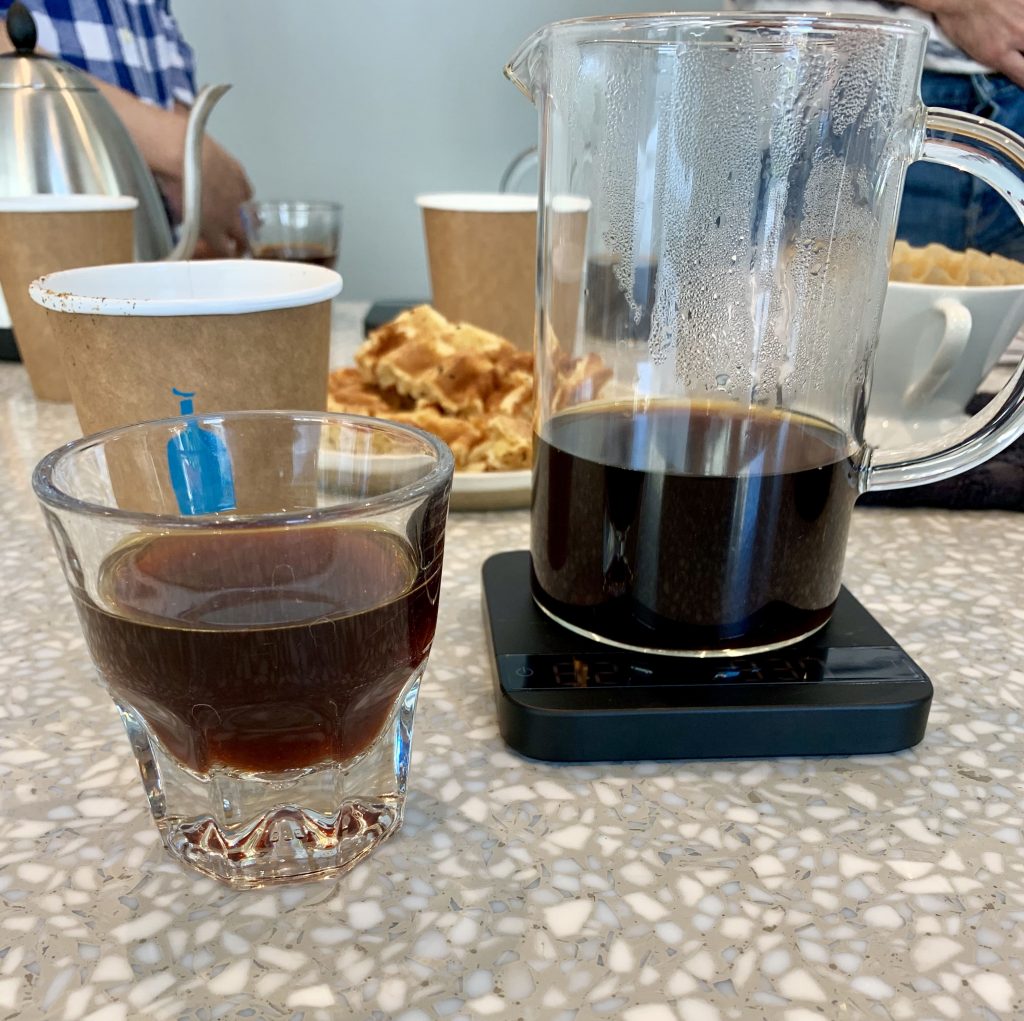 An Array of Beans
Recently, I was in L.A to learn how to make the perfect pour over cup of coffee. While I was not fully successful at making the perfect cup of joe, I certainly learned a lot about the art of coffee making.
Blue Bottle has pour over classes available for sign up online for the community to come and learn from the Blue Bottle baristas on the techniques to making a pour over coffee. They provide all the equipment, freshly ground coffee beans and, as an added bonus, you get to take home a bag of your choice of whole beans to continue practicing at home. The last is definitely a bonus unless you find yourself like me, at home with a bag of really good coffee beans and no grinder or pour over equipment…
There's Aeropress, French Press, Pour Over….
There's a few different types of coffee making you might be familiar with and while my list won't be exhaustive, here are a few of the popular at home ways you have probably seen on Instagram:
French Press: The steps to making coffee in a French Press is relatively straight forward – pour your coarsely ground beans into the bottom of the press, fill with boiling water and let the beans step for a minute or so. Then, plunge the coffee and pour your coffee. The French Press can be seen as "dirty" as it does tends to leave traces of the coffee grounds in your cup of coffee, but depending on who you ask this could actually give your coffee more flavor. Again, depends on who you ask.
Aeropress: This is one of my personal favorite ways to make coffee and while it took me a YouTube video or two to figure out, I found this one by Black Rifle Coffee Company, to be particularly helpful. The finished result from the Aeropress is a much cleaner cup of coffee, but takes a little more practice and thought than the french press.
Keurig: My sister is a fan of this method. Simply plug in your coffee cup of choice and press start.
Pour-Over: Arguably this method takes the most time, practice, and skill of all the aforementioned methods above. This means you probably won't start out pouring like your local favorite barista overnight. It's going to take practice, equipment, and lots of time. Most people you will ask will assure you that, when perfected, the pour over is the superior cup of joe.
Measure, measure, measure again.
The pour-over method requires a certain attention to detail that while it may be hard to find at 5:30am when you're trying to fumble for coffee, will most certainly provide a delicious on the go caffeine boost for your morning commute.
For the authentic pour-over method, check out Blue Bottle's post on achieving the perfect pour-over.
I found the lab class to be extremely helpful when it came to understanding why people opt for pour-overs and do the method at home. While I still find myself reaching for the Aeropress out of familiarity with the technique, continuing to practice the pour-over method is high on my list of To-Do's.